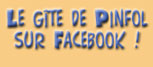 Le gîte-auberge de Pinfol est

une vieille bâtisse de pays en pierres,

perchée à 1400 m d'altitude,

The Pinfol gîte-auberge is an ancient

masonry house, built in local stone,

and standing at a height of 1400 m,
implantée sur un plateau en lisière de forêt,

en pleine nature. Confortable, chaleureux, ce lieu

respire le calme et la tranquilité.

on a plateau at the edge of the forest, in a wild

environment. Comfortable, warm and welcoming,

the house betokens peace and calm.
Exposé au sud, surplombant les vallées de la Durance

et du Guil, le gîte est situé au carrefour

du parc national des Ecrins, du parc naturel régional

South facing, overlooking both the Durance and Guil

valleys, the Gîte stands at the crossroads of the

Ecrins National Nature Reserve,
du Queyras, du Briançonnais, de l'Embrunais,

lac de Serre-Ponçon et de la vallée de Freissinières.

the Regional Queyras Park, the Briançonnais,

the Embrunais with the Serre Ponçon lake and

the Freissinières valley.
Nous vous accueillons en demi-pension pour un séjour ou une étape.

You're welcome to stay for half board, or just for a night.
Mireille ou Christophe, (ou les deux !)

seront à la cuisine pour concocter des repas

familiaux issus de la production locale :

Mireille and Christophe (or both !),

will be in the kitchen cooking family meals

concocted from local produce :
charcuterie, légumes, fruits, agneau...

sans oublier les confitures maison !

meats, vegetables, fruits, lamb...

without forgetting jams house !
---

© Mimi la Sardine - mai 2005